MMTTY Plug-in Page 7
MMTTY Plug-in Troubleshooting Guide
Updated 10/7/2014
---
Overview
It is important to remember that the MMTTY Plug-in for WriteLog comes in beta form.  This means it may or may not work with your system.  It is rare that the plug-in will not work if the stand-alone MMTTY program works.  However, it's possible the plug-in could have problems with particular PC or sound card or operating system.  In most cases, problems with the MMTTY plug-in can be corrected.  It is extremely important that you have the full MMTTY program installed in its default location C:\MMTTY\ (older versions of MMTTY installed in C:\Program Files\MMTTY\. However, starting with Windows  Vista, this is not recommended) and that you navigate to this directory the first time you activate MMTTY with the WriteLog Rttyrite window (thanks to Lloyd NX4W for pointing this out).
It is important that you get the stand-alone MMTTY program working correctly first before using the plug-in for WriteLog.  If the stand-alone MMTTY program doesn't work, the plug-in will not work either.  Once the stand-alone program is working, you can rest assured that any problems that appear when using the plug-in are associated with the plug-in and not with MMTTY itself.  Problems listed here at associated with the plug-in.
---
Problems Installing the MMTTY Plug-in for WriteLog
It is highly recommended that you reboot your computer immediately after installing an upgrade to WriteLog.  If you perform a new installation of WriteLog or upgrade to a newer version of WriteLog, then immediately try to install the MMTTY plug-in, it may not install because the InstallShield Wizard leaves information in memory which remains from previously installed programs.  Since WriteLog upgrades also use InstallShield, you need to clear your computer's memory by re-booting before attempting to install any other program using InstallShield.
As stated before, the MMTTY plug-in for WriteLog is outdated software. The better solution is to use XMMT.ocx. If you have difficulty installing the MMTTY plug-in for WriteLog, try using MMTTY with XMMT.ocx. Refer to here for detailed information on using XMMT.ocx with MMTTY.
---
MMTTYTNC Error message – Can't start MMTTY!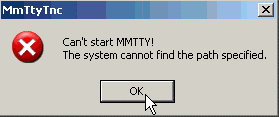 The plug-in cannot find the location of mmtty.exe.  If you are starting MMTTY for the first time from Rttyrite or the path specified in your writelog.ini file is not the same as the actual location of mmtty.exe, you will get this message.  Just click on the OK button.
When you click OK, a window will open where you need to navigate to the location of mmtty.exe.  If the MMTTY engine (mmtty.exe) was installed in its default location, the path will be C:\Program Files\MMTTY\ (this is for Windows XP and before). Newer installations of MMTTY will be at C:\MMTTY\ or some location other than C:\Program Files\MMTTY\.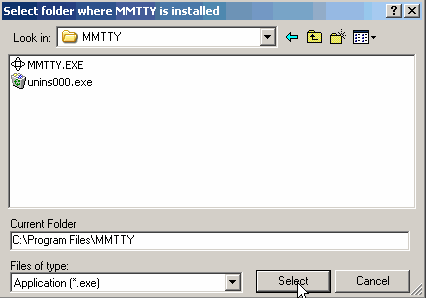 It is possible that you may have installed the MMTTY program in a different location other than the default location C:\Program Files\Mmtty\.  This is OK.  If this is the case, by navigating to the correct location, the writelog.ini file will be updated to the correct location automatically.
---
Using EXTFSK or LPT Keying
If you use EXTFSK or LPT keying for FSK with the MMTTY stand-alone program, they will not work when using the MMTTY plug-in for WriteLog.  As you will notice, there is no LPT option in the Ports menu of the Rttyrite screen.  However, WriteLog does have the ability to emulate EXTFSK starting with version 10.58 using a feature called "Software generated FSK".  For more information on WriteLog's "Software generated FSK" feature, click here.
---
WriteLog.ini Problems
If you encounter errors while installing or running the MMTTY Plug-in you may have problems with entries in the writelog.ini file.  Open the writelog.ini file and check to make sure the paths are correct for your Datafiles and for the location of MMTTY.  The procedure above should take care of the MMTTY location.  Also check to make sure there are no double backslashes \\ where there should be single backslashes \.
[Configuration]
Datafiles=C:\ham\programs\
[Rttyrite]
MMTTY_LOCATION=C:\Program Files\MMTTY\
If you run MMTTY in a 2nd Rttyrite window, check that one also:
[Rttyrite2]
MMTTY_LOCATION=C:\Program Files\MMTTY\
The above locations are the default locations.  If your locations are different, edit the above  writelog.ini entries to reflect the correct paths.  Also, if you run two Rttyrite windows and for some reason see the MMTTY_LOCATION entry shows under both [Rttyrite] and [Rttyrite2], that is OK.  That only means that you can start MMTTY from either Rttyrite window and WriteLog already knows the path.  If you use another TNC for either of the Rttyrite windows, the MMTTY_LOCATION entry will be ignored for that particular Rttyrite window.  Thanks to Jon, K1US sk.
If the plug-in installed successfully, but you have problems running it with WriteLog, an easy way to start fresh to go into the writelog.ini file and delete everything under [Rttyrite] and [Rttyrite2], save the file and try again (note Rttyrite2 will only show up in the writelog.ini file if you opened two instances of Rttyrite at the same such as using SO2R with WinRTTY or cloned a Rttyrite window).
Please note that the entire MMTTY stand-alone program must be installed and that the Writelog.ini file must point to the correct location of MMTTY.  You cannot just place the MMTTY engine in a folder and direct WriteLog to that folder.  Do a full install of MMTTY.
Thanks to Keith, K7KAR, for the following information regarding correcting a problem with audio going to the sound card:
"MMTTY standalone worked fine, but when I got to the plug-in I ran into a problem.
I had been using WriteLog on a single computer with two radios, although I only use one in contests. I was set up for Sound Board FSK. After installing the plug-in I set the TU type to MMTTY on one of the radios.
Problem: no audio to MMTTY.  After a little head scratching and playing around I used Task Manager and saw WLSound.exe was running. That made me decide to set WriteLog to one radio only.  Shut down WriteLog, rebooted and restarted WriteLog.  No sound to MMTTY. Task Manager still shows WlSound.exe running.  I killed it and MMTTY gets audio.  After a little head scratching I opened writelog.ini and deleted [Rttyrite2] (also deleted the other … 2 sections.  Restart WriteLog and presto MMTTY works. It seems if you EVER had two radios and used Rttyrite on the (stereo) soundboard, WlSound.exe wants to play.  I then added a second radio set to MMTTY and WlSound.exe didn't try to start (the second MMTTY doesn't work either unless I set it to the second sound card).
Bottom line seems to be if you have a two radio setup using the soundboard and Rttyrite (WinRTTY), and you want to try MMTTY, you should reset to one radio and clean [Rttyrite2] out of the .ini file before you try to use the MMTTY plug-in or you will face problems."
Thanks Keith!
---
Unable to select FSK in Setup
If you wish to key FSK directly to your radio and you go to the Misc tab in MMTTY Setup and the two FSK options are grayed out and unavailable, then you need to set your COM port under the Ports pull-down menu in Rttyrite first.  Once you have set your COM port in Rttyrite, go back to MMTTY Setup and the two FSK options will then become available.  If you get an error message when you try to set your COM port in Rttyrite, see below.
---
Rttyrite Error – Cannot open 'COMx"
Where "x" is the number of the COM port you are trying to select in the Port pull-down menu in Rttyrite.  You will get this message if the COM port you are trying to select is already in use.  To check to see if the COM port is already in use by WriteLog, go to the main WriteLog window and choose Ports… under the Setup pulldown menu.  Check to see if the port is already specified by either CW, Rig or the Rotator control.  If the COM port is in use by CW, then click on the circle all the way to the bottom of the CW column.  This clears CW from all COM ports.  Click on OK and the COM port will now be available for Rttyrite.
If you still get this error when trying to open the COM port in Rttyrite, check to make sure no other programs are running that is using that port.
---
MMTTY Settings Affecting Operation
There are a number of settings which affect the operation of MMTTY.  One of the most important is the Priority setting on the Misc. tab in MMTTY Setup.  Many operators have reported that MMTTY runs better with the Priority set to Higher or Highest.
Another common problem some experience is a delay between the time the radio is keyed and when the buffer message is sent.  Some have reported delays as much as 1-2 seconds.  The most common fix for this is to change the TX FIFO Setting on the Misc. Tab in MMTTY Setup.
Another cause of delay between PTT and when the buffer is sent has been attributed to having both software PTT and hardware PTT enabled at the same time.  In other words, running PTT through Radio Control and also have PTT wired externally from a COM port interface to the radio (this one was found by Bill, W7TI).
Check the PTT timer too (open MMTTY stand alone program, look under Options menu).  Set the timer to zero (not sure if this affects the plug-in or not but some say it does).
If you see characters added to the beginning or end of your transmissions in the Rttyrite screen, they aren't actually being transmitted.  You can eliminate these characters by turning "Sound loopback" OFF.  This option is located on the Misc tab in Setup.
It is highly recommended that you refer to the MMTTY Help Files on other troubleshooting steps and important settings.
---
MMTTY Locks Up on Transmit
I had this very problem occur to me.  I was using a Compaq Deskpro 333 MHz Pentium II computer that would lock up while transmitting FSK using the MMTTY Plug-in.  It would not happen on every transmission but it happened enough that I no longer could use the PC for RTTY contesting.  The solution was to install a separate sound card in the PC and use the new sound card with the plug-in.
Then later I received an E-mail from someone who was having trouble with MMTTY lock-up problems.  His solution was to install updated drivers for his sound card.  So I tried that with my Compaq Deskpro and it cured the problems of MMTTY locking up while using the original sound card.  I found that the PC was using the generic Windows sound card driver.  I went on the Web and found specific drivers for the sound card.  I installed the new driver and it appears to have fixed the problem.  So check to make sure you have the correct and most up-to-date driver for your sound card.  To find out which sound card you have, go to the Device Manager and check the properties of your Sound controller.
---
Issues with MMTTY Version 1.63 & 1.64
The MMTTY "engines" that came with versions 1.63 and 1.64 have a known problem when used with WriteLog and some other programs.  On rare occasion, pressing an F key to send a buffer message would cause the transmitter to key, then suddenly un-key.  In the 2003 NAQP RTTY contest, I beta tested MMTTY engine 1.64b and experienced no drop outs in 600 QSO's.  It was a good test and I feel that perhaps this engine may be the upgrade we are looking for.
In any case, the 1.62 "engine" has proved to be rock solid and is a good one to use in case of problems with present or future versions of the MMTTY "engine".  The "engine" is basically just the program Mmtty.exe and nothing more.
If you have MMTTY162.exe which is the full version 1.62 program, you can re-install it over any existing MMTTY installation.