AA5AU Contest Notes – 2004 CQWW RTTY Contest
This contest is the granddaddy of them all when it comes to DX.  Having won world titles in this contest twice – Low Power Single Op (1999) and High Power Single Op (2002), I go into this contest only to maximize my fun since there is no pressure to win.  To decide which category to participate, I try to guess which one will allow me the most fun.
During solar cycle high years, I may have more fun going low power.  In declining solar years, such as this year when DX conditions are normally not very good, I may tend to go high power.  I still enjoy low power more than high power, but after struggling with poor band conditions during the past several contests, I was leaning toward going high power well before the weekend.  I actually didn't make my mind up until the day the contest started.  And when I saw the solar flux at 90, the A at 6 and the K at 2 on Friday, I was optimistic that low geomagnetic noise would make the contest better than what we experienced in SARTG and SCC.  But I also knew that the A and K could rise at any time even though the numbers were lower than forecast.  But I wanted to go high power since I now own a big amp (Icom IC PW-1) that will run a KW on RTTY.
I took Friday off from work as I normally do for major contests.  I usually take that day off to rest, but because of preparations for the possible arrival of Hurricane Ivan the week before, most of the equipment had been disconnected and moved off the floor in case of flooding.  So I spent most of the day putting everything back together, reconnecting and testing the station.  I also made a change for comfort.  One of my Yaesu rotor control boxes (the one for the lower A3S tribander used for 15 meters) was out to the left and I wanted it directly in front of me like my other control box for the higher A3S (with 40M add-on kit) used for 20 and 40 meters.  With the wood left over from building my shelf earlier this year, I made a small platform to house that rotor control box just above the other Yaesu controller and directly in front of me at eye level.
I also reconnected the PW-1 and placed it on the floor behind the desk.  The big fan in the amp comes on quite often when used on RTTY and it's extremely loud.  It's not bad with the unit behind the desk and remote control head on the desk.  After connecting everything for both radios, I tested them and everything seemed to work OK.
The PW-1 is on the Left radio (also referred to as Radio A) and is used primarily for 15 and 40 meters.  On the Right radio (Radio B) for 10, 20 and 80 meters, I use an Ameritron AL-80B.  The AL-80B gives me 500 watts on RTTY, but this weekend I would push it to 600 watts most of the time since I have a spare AL-80B in case of failure.  Happily, nothing failed and the AL-80B pumped 600 watts out all weekend with no problem.  I didn't run the PW-1 at a full KW.  I ran it between 800-900 watts most of the time and the big fan ran most of the weekend and kept the amp "cool".
So on that Friday, after looking at the propagation numbers, I decided to go ahead and go high power (unassisted).  I ran high power assisted last year and having the Packetcluster was so distracting, I vowed not to do it again.  Since I really didn't care how well I did in this contest, I didn't map out any strategy beforehand.  I really didn't know what to expect.  This would be the first year in a long time to have to operate this contest with this low of a solar flux.  My thoughts were that ten meters would be dead and fifteen would only be good for stateside, South America and maybe some Pacific stations.  It ended up that I was correct about 10 meters, but fifteen meters was another story!  More on that later.
I decided to start the contest on 15 and 20 meters since the contest begins right at my sunset and move from 15 to 40 meters on the A radio when 15 went away.  The first two hours were very good with the 109 contacts the first hour and 101 the second hour. But 15 meters went away quickly as dusk turned to darkness.  I had a good run on 14087 kHz and was mostly S&P on 15 working JA and US west coast stations.  At 0045Z I moved from 15 to 40 meters.  With high power, I get a lot of interference into the 20 meter radio when I transmit in the lower part of the 40 meter band so I was mostly CQ on 20 meters and S&P on 40.  My rate dropped to 79 for the next two hours.
I ran 14087 kHz for an hour and fifteen minutes at the start.  At 0115Z I moved from 20 to 80 meters on the B radio after a quick pass showed that 20 meters had gone away.  So into the night it was mainly 40 and 80 meters with spot checks on 20 for a JA opening which never happened.  40 and 80 were not that great. They were noisy, possibly caused by thunderstorms associated with Hurricane Jeanne coming ashore over Florida.  I was hoping for big runs into Europe on 40, but that didn't happen either although I did work a fair amount of EU through the noise.  I also worked a couple of EU stations on 80, but it was mainly USA.  I worked hard at working as many USA states as possible on 40 and 80.  Working USA states on the low bands gives me an advantage over those in other continents.  I didn't try to move anyone from one band to the other, I mainly worked on rate.  But USA participation must have been way down this year as it was hard to generate the big runs I had hoped for on the low bands.  I was disappointed.
The rate fell way off after 0500Z and I worked only 55 stations from 0500-0600Z and only 33 from 0600-0700Z.  I was getting very tired since I didn't rest earlier that day but I forced myself to keep going until the sun was up over all of Europe so I could check for the possible 20 meter EU opening at 0700Z that I sometimes get.  This rare opening can be a real shot in the arm for me, but it didn't happen this weekend on either night and my 20 meter score would reflect that.  At 0700Z there were no signals at all across the 20 meter RTTY band, EU was gone from 40 and 80 was void of anyone I hadn't already worked, so I went to bed at 0705Z.
After a two and a half hour sleep, I got up and made coffee.  I restarted the contest just after 0930Z or 4:30 a.m. local time.  There were some signals on 40 and 80 meters, but 20 was still dead.  I was still somewhat tired and the slow rates for the next two hours didn't help much.  There were a few JA's on 40 but it was mostly USA stations and nothing special out of Asia.  However, at 1023Z I worked my first ever Japanese station on 80 meter RTTY.  With not much going on, I decided to check the lower end of 80 meters for signals because I know KH7X likes to go down there and work Japan.  At 1015Z, I found KH7X on 3522 kHz and worked him but didn't hear anything else.  I kept checking down there and at 1023Z I heard and called JA2ZJW.  I printed his call and a report clearly but did not see a clear print of my callsign.  The timing was right and I'm pretty certain the QSO was good so I logged him.  It was the first "notable" contact of the contest.
At 1100Z, I started hearing signals on 20 meters and it was all Europe.  So I did a quick S&P up the band working 5 or 6 but the band wasn't great, so I went CQ on 14079 kHz while S&P on 40 where I found VK6HD at 1207Z for a nice double multiplier.  It was pretty slow on 20 and 40.  I kept checking 15 hoping for an opening.  The flux was still 90 and the K was still 2, so I was hoping 15 meters would open.  At 1210Z I found HI3TEJ calling CQ on 15 meters.  I always hear the Caribbean first on 15 when it opens – always.  Two minutes later I worked 9A5W.  This was a very good sign, but I was cautiously optimistic and wondering if this was going to be just a temporary early path into Europe or if it was the start of prolonged path.  I found JA6WFM/HI8 and PJ4/W9ILY on 15 too.   CQ on 20 was slow but YS1RR did call in for a double multiplier.  Soon, more and more European signals were popping up on 15 meters and since 20 was slow, I decided to call CQ on 21083 kHz.  I ran Europe on 15 meters for one hour while S&P on 20.  Signals on 20 had grown strong so I switched and went CQ on 14086 kHz at 1334Z and S&P on 15 where I picked up 9J2KC while running only 200 watts because he was above 21100.  On 20, UN5J called in for another double multiplier but the rate on 20 was slow.  15 was really getting good so at 1410Z, I found a clear spot around 21080 kHz and called CQ.  I was hoping for a good run on 15 and I got it.  Two full hours of a European pileup.  It was tremendous and it was the best part of the entire contest for me.  I had so many stations calling me on 15 that it was difficult to work the other radio on 20 and that almost never happens.  On the other radio I kept checking 10 meters but there was nothing there until I heard and worked LU8EKC at 1600Z.  I then found ZX2B, HC8N and HC1JQ.  At 1615Z, I decided to CQ on 10 with the beam to South America and go S&P on 15.  On ten meters I picked up W9WI and AA5NT on backscatter along with PR7FN.
Ten was terrible and would be all weekend.  There were not enough South American stations to work, and I couldn't hear much in the USA on backscatter or direct path.  So I started calling CQ back on 15 meters on 21081 kHz and instantly had another European pileup at 1654Z which lasted just over two hours.  In the meantime I was switching back and forth between 10 and 20 meters on the other radio with not much going on either band.  At 1922Z I finally decided go do an S&P on 15 as EU started going away.  I was feeling very tired and this part of the day is usually a slow rate in most contests so I took an hour nap and came back on at 2106Z.
After my break there were good signals from Europe on 20 meters but not too many.  15 meters was actually better as far as rate is concerned for the next three hours but I did pick up some nice multipliers on 20 like 4U1ITU and CN8KD.  I worked my first JA of the afternoon (JE1ZWT) at 2114Z on 15 meters, so I swung the beam northwest and kept it there where I worked several JA's and also a lot of backscatter USA Midwest, East Coast and even the Southeastern states of AL and GA.  Then on 15, I picked up KL7IWC, UA0FAI, KG6DX (in Guam), XE1MW, VK4UC and YC2WBF for double multipliers along with a host of west coast USA direct and some South American stations off the back of the beam.  On 20 I picked up 5U7B, 9J2KC and ZP5DBC for double multipliers and on 10 meters I worked KH6FI.
Finally after 0001Z, 15 started fading but the rate stayed steady on 20 meters and I picked up ZL2AMI on 10.  But overall the rate was pretty slow.  I was trying to run rate on 20 but not much was happening, so I took a 30 minute dinner break at 0100Z.  15 meters was history so it was pretty much 40 meters on the A radio and 20 and 80 meters on the B radio with pretty slow rates until 0600Z when I decided to go bed.  At that time I had 1491 QSO's and 484 multipliers.
I slept for 4 hours and restarted after 1015Z (0515 local time).  I only worked 22 stations on noisy 40 and 80 meter bands that first hour and it was miserably slow but at 1115Z I started hearing Europe on 20 meters.  40 meters was very slow with endless, unanswered CQ's.  I kept checking 15 meters and at 1150Z I started hearing signals.  At 1155Z, I worked OK1TRM and I was happy to see the band open.  I tried CQ'ing on 15 but it was too early to get a run, so I CQ'd on 20 and was S&P on 15 until 1300Z when I started CQ'ing on 15 meters and got a nice European run for nearly 2 and half hours – it was great!  The biggest thrill was being called by VU2WAP and he was 10 db over S-9 and blasted through the European pile – WOW!  Toward the end of the run JW7XK called in from Zone 40 with a very fluttery signal and even though he had a strong signal, I had to hit the flutter profile in MMTTY before I was able to decipher the call.  It was another great contact on 15 meters.  15 would be my best band all weekend.
Finally I decided I needed to S&P on 15 to make sure I didn't miss any multipliers.  With nothing on 10, I CQ'd on 20 while I checked 15 and found OH0I and VQ9LA.  I broke the huge VQ9 pileup on just one call by waiting for everyone to call and then slipping my callsign in twice.  That felt great.  I didn't find much else new on 15 and my CQ's on 20 were mostly unanswered so at 1654Z, I found a clear space around 21081 kHz and called CQ.  I only worked 22 stations on 15 in the next hour, so I either worked the band out or Europe was faded.  The lack of USA was quite evident and I was concerned.
I started looking at my numbers and I was getting close to 2 million points and saw that I had a shot at 2000 QSO's, so I set a goal of 2000 contacts and decided to work hard at trying to achieve that total.  So it was mainly 15 and 20 meters for the last 4 hours – back and forth CQ and S&P on each band frantically looking for new stations to work.  The rate was painfully slow but I gradually picked up the pace going from 33 QSO's from 2000-2100Z to 39 QSO's the next hour, then 44, then finishing with 46 QSO's the last hour.  It was a tough final four hours with very few new multipliers.  I worked W5TT at 2359Z on 20 meters for my final contact, stopped the contest, saved the logs then sat back and looked at my numbers.  I was very tired!
Those last four hours took a lot out of me.  I could not remember CQWW RTTY ever being this slow at the end.  I wondered why there had been such a low turnout from the USA.  It made a big difference.  I felt I had given everything I had.  Without rest on Friday, I just couldn't do any more than 40 hours.  I felt I'd had a good contest and was happy with my score considering everything else.  I felt that I had fun during the contest and that was the ultimate goal.  The 15 meter total startled me.  It was considerably better than I had ever thought possible.  Totals on all the other bands were disappointing but I felt there wasn't much more out there for this station under these conditions.
Working a Japanese station on RTTY for the very first time on 80 meters and having VU2WAP slam the EU pileup I was working on 15 meters were the ultimate highlights of the contest.  The two low moments were being unable to break the 9M2/G4FZE pileup on 20 meters Sunday morning and SY9Y not hearing me on 20, also on Sunday.  I called SY9Y over and over with 600 watts on several occasions only to have him CQ back in my face.  That was quite frustrating to miss out on a simple multiplier.
All and all, I am happy with my performance and the performance of the station.  Looking at my score, I am only further reminded that I lack antennas for 20 and 40 meters.  Guess I need to do something about that if I want to do well in the remaining decline of this cycle and the start of the next.  Thanks to everyone for working me in the contest.  And congratulations to Charlie, KI5XP, who posted a slightly higher score than me after the contest.  It will be interesting to see what the final results are.
73, Don AA5AU
---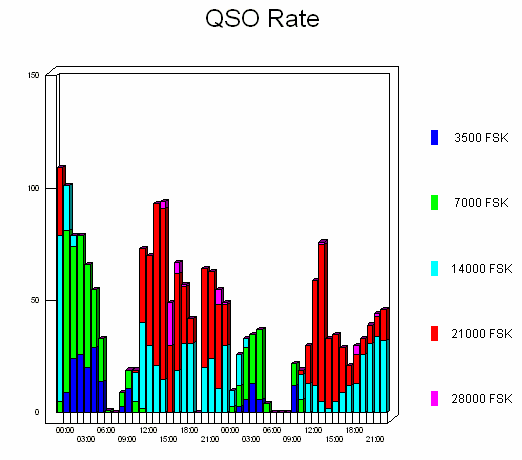 CQ Worldwide DX Contest, RTTY
Call: AA5AU
Operator(s): AA5AU
Station: AA5AU
Class: SOAB HP
QTH: LA
Operating Time (hrs): 41
Radios: SO2R
Summary:
Band  QSOs  Pts   State/Prov  DX   Zones
——————————————
80:  176   220       45      17    10
40:  401   718       45      59    22
20:  612  1167       48      72    29
15:  776  1967       39      84    28
10:   42     96        10      11    11
——————————————
Total: 2007  4168      188     243    99  Total Score = 2,209,040
Station A:
Icom IC-775DSP transceiver
Icom IC-PW1 amplifier running 800-900 watts output
JPS NIR-12 Dual DSP audio filter
Dell 2.66 GHz Pentium 4 running WriteLog for Windows under Windows XP Pro
MMTTY Plug-in for WriteLog in the main Rttyrite window
HAL DXP-38 in a cloned Rttyrite window for receive only
Station B:
Kenwood TS-870 transceiver
Ameritron AL-80B amplifier running 600 watts output
JPS NIR-12 Dual DSP audio filter
HP Pavilion 200 MHz Pentium I running WriteLog for Windows under Windows 98se
MMTTY Plug-in for WriteLog in the main Rttyrite window
HAL DXP-38 in a cloned Rttyrite window for receive only
Antennas:
Cushcraft A3S triband yagi with 40M add-on kit @ 62′ controlled by a Yaesu SDX-800 rotor
Cushcraft A3S triband yagi @ 55′ controlled by a Yaesu SDX-800 rotor
80 meter inverted vee with apex at 60′