AA5AU Contest Notes – 2004 NAQP RTTY July
Having won Single Operator in 6 of the last 7 NAQP RTTY contests including the last five in a row, I was hoping I would keep my winning streak alive.  However, I just happened to be on-call at work that weekend and as busy as we were I could not get anyone else to substitute for me.
Since my professional work is very important to me, I decided I would enter the contest knowing I would more than likely be interrupted and I would not be able to put in a full effort.  Balancing work and contesting is not an easy thing to do.  Being a manager, I've been able to plan weekends off during major contests or trade with someone to take my call.  But because of the increased workload, I knew this weekend I was stuck.
Because of this, I entered the contest in the "casual" mode.  I convinced myself I would not win this contest and relegated the event to pure fun.  I would go "all-out" and have a good time and if work called, I would perform my work duties and not worry about how I fared in the contest.  However, in the back of my mind, I knew that if I did not have many interruptions, that I would be able to compete in earnest and still have a chance to win.  But I was so convinced I would not be able to put in the full effort that I sent my teammate Charlie, KI5XP, an E-mail urging him to put in an extra effort because I didn't expect to do so myself.  I wanted Charlie to win.  I felt he deserved to win.  Charlie came very close to beating me in the February NAQP RTTY contest.  Charlie had 34 QSO's more than me, but I had 12 more multipliers.  The score was close – 143,058 vs. 141,668.  Charlie just didn't move enough multipliers to different bands.  I know how Charlie must have felt.  I had come close to winning this contest a few times in the late 90's only to have Ron K5DJ beat me.
I finally broke through with my first NAQP RTTY win in the July 1999 contest (NAQP was only run in July until the 2003 February event).  But in 2000, K5DJ came back to beat me in a very close score 64,964 vs. 64,050.  Since then I won in July 2001, July 2002, February 2003, July 2003 & February 2004.
I was so convinced that I would not have a shot at winning this contest, that I waited until the Friday night before the contest to prepare.  I had never used my recently acquired Icom IC-775DSP in a major RTTY contest.  For ANARTS in June 2004, I replaced the '775 with one of my Kenwood TS-870's.  I have been using the TS-870's in SO2R for so long, I trusted them.  But I had the '775 in position and decided on Friday before the contest that I would use the '775 throttled back to 100 watts for NAQP on the A station which is mainly for 15 and 40 meters.  It would be a good test for the radio in an actual RTTY contest.  And since I was convinced I wouldn't win, it would give me a chance to try the new radio.
So Friday night before the contest I completed final checks of both radios – the IC-775DSP and Kenwood TS-870.  Everything checked out fine so I went to bed late, hoping to sleep in late so I would be well rested for the contest.  I did sleep in late, until about 9 a.m. local time and was well rested.  I had a few work calls early that morning, but nothing major to call me into the office.  I anticipated a call that might come during the contest and made a plan to what to do if I received that call.
So at 1800Z on Saturday, July 17, I was ready to go.  I would start the contest on 10 and 15 meters.  I had called CQ on 10 meters before the contest and was answered by W8BAR in MA two hours prior to the start.  And immediately before the contest I worked a station in MI on 15 meters and asked him to check 10 meters and he was very strong.  I was confident that 10 meters would have some activity.
I started the contest by CQ'ing on 21082 on 15 meters and S&P on 10 meters.  My first contact was being called by N1MGO on 15 meters.  At the same time I found WI8W in MI on 10 meters.  His signal was strong and I immediately knew ten meters was open to at least the Midwest.  But then I only worked N8NR is OH, VA3DX in ON and KI1G in RI on 10 meters in the next six minutes.  The band was open but no one was there.  I tried calling CQ a few times but received no answers.
Knowing the NAQP is all about rate AND multipliers, I decided to move the 10 meter radio to 20 meters to check activity while continuing a good run on 21082 kHz.  I had a good rate going on 15, so it didn't bother me too much to quickly jump from 10 to 20 meters on the other radio.  When I got to 20, I found only a handful of stations and they weren't very strong.  I worked six stations on 20 meters S&P in 6 minutes and went back to 10 meters where I found more stations to work.  I started running stations on 28083 and did a quick S&P on 15 meters.  Eventually I settled on 21086 and was CQ on both radios.  In the first hour, I worked 91 stations and it was an excellent start.  I kept moving the B radio back and forth between 10 and 20 meters while keeping the A radio on 15.  This worked well, but I knew I had to pick up valuable multipliers on 10 meters.
From past experience, I know how important 10 meter contacts and multipliers are in this contest, especially if the band isn't fully open.  One of the best ways to get multipliers is by moving stations from one band to another.  I normally don't try moving stations early in the contest, instead I try to work on rate.  But I decided early on in this one that I would have to try very hard to move stations from 15 to 10 meters.  Ten meters was open to the Midwest and to the East Coast but there just wasn't much activity.  I felt that if I could get multipliers to move from 15 to 10 that it would make a difference.  Since 28086 seemed like a clear frequency that I was having limited success with while calling CQ on 10 meters, I programmed a special buffer to ask any station worked on 15 meters, that would be a new multiplier on 10 meters, to QSY to 28086.  The buffer in WriteLog was "TU %C PSE QSY 28086 DE AA5AU QRZ".
This worked much better than I anticipated.  Every station I worked on 15 meters that would be a new multiplier on 10 received the "PSE QSY TO 28086" message.  Even if I was on 20 meters on the B radio and I worked a station on 15 that would be a new multiplier on 10, I would send the "PSE QSY TO 28086" message and then move the B radio from 20 meters to 28086.  This is the beauty of the NAQP contest – low power & quick QSY.  Moving stations from 15 to 10 meters worked about 50% of the time probably and helped my overall score more than anything else.
Toward the end of the first hour, my friend Mike W5ZPA called me on 20 meters.  Mike is not a contester but always seems to find me in the contests.  He lives only about 10 miles away.  Since I didn't know I would be able to work my own state of Louisiana on all bands, I moved Mike from 20 to 15 to 10 to 40 and finally to 80 meters for five quick multipliers.  I also asked him to send in his log to verify the contacts.  Mike has helped me so many times in many contests with band multipliers and I've never solicited his help.  He is a master RTTY operator that just happens to find me and help me when I need him.
Just after this first hour, my cellphone would ring.  It was the call from customer service at my work that I was anticipating.  I had to coordinate a job.  I decided 15 meters was the better band, so I cocked the headphones to listen to the 15 meter "A" radio and made my work calls on my cellphone to my right ear.  It took about 15 minutes to get the job coordinated, so I didn't lose much on the radio.  Thankfully, it would be the only work call I received the rest of the day!
Eventually 10 meters would yield no more contacts.  So at 2040Z, I went to 20 meters to stay.  But I was able to move KZ8E in WV from 20 to 10 at 2107Z, so the band was still open.  I stayed with 15 and 20 meters until I decided I needed to at least take a look at 40 to see if anyone was there.  So at 2145Z, I moved the A radio from 15 to 40 for a quick check of the band and found AA4VV on 7089.  I worked Tom, but he was the only one on the band so I went back to 15 on that radio.  Fifteen meters was slowly dying.  I beamed west hoping to pick up some western state multipliers but the band would not open to the west.  This was very strange.  Around this time, the western part of the USA is usually booming into Louisiana on 15.  But not today.
I went back to 40 meters at 2205Z and found several more stations including WA2ETU in NY, N5PU in MS and K8NR in OH.  I started calling CQ on 7085 and worked AD4EB in TN, KI5XP in LA, NN5A in TN, KV4CN in NC and W5KFT in TX.  But 40 wasn't going all that strong yet and 20 was really not all that great either.  But I hung in there and 40 got better as I settled on 7086 and had a good run while S&P on 20 meters until Shay called me for dinner.  I took my first rest period at 2320Z for one hour.  At that time I had 420 QSO's.  That's an average of 79 QSO's per hour and I was very happy since the bands were not all that great and I knew 20 and 40 would improve later.
After dinner, I set up on 20 and 40 meters.  I immediately set out CQ'ing on 7090 kHz and S&P on 20.  Twenty meters was hot with good signals but each station I tuned across I had already worked.  So I started alternating CQ's on both 20 and 40 meters.  This worked good for about 30 minutes.  30 minutes doesn't seem like a long time but NAQP is like boxing – you have to STICK & MOVE.  So I went back to S&P on 20 while maintaining a good rate on 7090 kHz on 40 meters.  I stayed on 7090 kHz for 30 minutes and tried to CQ on 20 at the same time but no one was coming back to me on 20.  I felt after 30 minutes CQ on 40 that I needed to do an S&P pass on the band so I wouldn't miss any multipliers.  So toward the end of this 30 minute 40 meter run, I moved the 20 meter radio to 80 meters to see if anything was there.
There were no signals on 80 meters.  Since I couldn't get a run on 20 and since I felt compelled to look for multipliers on 40, I decided to gamble.  I would CQ on 80 meters even with no one else there yet.  I would be the one to open the band.  I would at least give it a few minutes while I went S&P on 40.  So I started CQ on 3585 around 0105Z while I went S&P on 40.  I made 13 QSO's on 3585 in the next 25 minutes.  I worked everyone I heard on 40 and decided I would CQ on 40, do a quick check across 80 meters and then move the 80 meter radio back to 20 and check it.
There wasn't anyone on 80 I hadn't already worked, so I moved that radio to 20 at 0130Z where I found VY1JA for a new multiplier.  I had worked "J" the previous day and he said he would be in the contest.  I was pleased to find him.  There was only one other station on 20 that I hadn't already worked – W7LD in WA, so I moved that radio back to 80 at 0140Z.  From there I alternated CQ and S&P on both radios.  I'd do one pass on one of the bands while CQ'ing on the other, then switch after 15 or 20 minutes.  Again- it was stick & move back and forth on 40 & 80 meters for the rest of the contest except on a few occasions when I would move the 80 meter radio to 20 to see if there were any multipliers.
Since 10 nor 15 had not been open to the west, I had not worked any Hawaiian stations.  I figured there had to be at least one HI station in the contest and I finally found one on 20 meters with KH6GMP at 0337Z.
80 meters was pretty slow that night and I only worked 90 stations with 33 multipliers.  The band was noisy, but with the 18 db attenuator and AIP function turned on in the TS-870, I was able to copy fairly well.  40 was in better shape than 80.  It was noisy too, but signals were pretty strong and I was able to work a steady rate and ended up with 212 QSO's and 49 multipliers.  The biggest surprise on 40 meters was being called by VY1JA.
Since I needed to take another hour of off-time, I ended the contest with my last contact at 0458Z and took the last hour off.  I sat back and looked at the numbers.  They looked pretty darn good since conditions on 10 and 15 meters were not great.  I was happy that the station performed well and I had no problems.  And I was satisfied with my score.
Five days after the contest, I was still listed as high score for single operators who had posted their claimed score on the 3830 reflector.  I lead Rick, KI1G by just over 11k points.  Rick had two more multipliers than me, but I had 64 more contacts.  I saw Rick moving stations from 15 to 10 meters like I was early in the contest but he was using 28055 kHz.  I thought about this tactic and didn't understand it.  Had ten meters been jam-packed full of signals, then using 28055 would have been a good idea.  But with plenty of clear space in the middle of the band, I preferred to move stations to around 28086.  This way, maybe someone else would hear us and I'd pick up extra contacts.  If I tried to move a station, I would give them one call and then call CQ and hope to snag anyone that would hear me.  I'll have to ask Rick about that one.
Charlie, KI5XP, showed 3rd in the claimed score.  I receive an E-mail from Charlie a few days after the contest.  He complained of not being able to get into a rhythm.  He operated from the W5WMU contest station and he said he would never use the FT-1000 radios for RTTY contesting again.  Apparently, the tuning is too fast for RTTY.  That was interesting to hear.
The only one who hadn't posted his score was Randy K5ZD.  He could be the dark horse in all of this.  I worked Randy early in the contest but did not see him on 40 & 80 meters.  It will be interesting to see how it turns out.  It was a fun contest that I really enjoyed.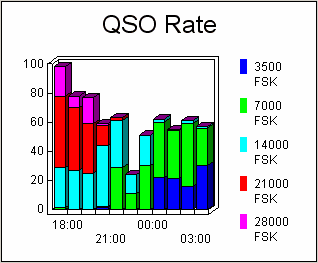 ---
Call: AA5AU
Operator(s): AA5AU
Station: AA5AU
Class: Single Op LP
QTH: LA
Operating Time (hrs): 10
Radios: SO2R
Summary:
Band  QSOs  Mults
——————-
80:   90    33
40:  212    49
20:  194    50
15:  142    42
10:   47    21
——————-
Total:  685   195  Total Score = 133,575
Station A:
Icom IC-775DSP running 100 watts
JPS NIR-12 Dual DSP audio filter
Dell 2.66 GHz Pentium 4 running WriteLog for Windows under Windows XP Pro
MMTTY Plug-in for WriteLog in the main Rttyrite window
HAL DXP-38 in a cloned Rttyrite window for receive only
Station B:
Kenwood TS-870 running 100 watts
JPS NIR-12 Dual DSP audio filter
HP Pavilion 200 MHz Pentium I running WriteLog for Windows under Windows 98se
MMTTY Plug-in for WriteLog in the main Rttyrite window
HAL DXP-38 in a cloned Rttyrite window for receive only
Antennas:
Cushcraft A3S triband yagi with 40M add-on kit @ 62′ controlled by a Yaesu SDX-800 rotor
Cushcraft A3S triband yagi @ 55′ controlled by a Yaesu SDX-800 rotor
80 meter inverted vee with apex at 60′