AA5AU Contest Notes – 2005 BARTG HF RTTY Contest
The BARTG Spring HF RTTY Contest was the very first RTTY contest I ever operated back in the late 1980's.  I remember making 19 QSO's that first year.  There weren't many RTTY contests back then and BARTG was the big one.  Every year I looked forward to the BARTG contest.  And even today it is still a very popular contest.
BARTG was a tough contest to win.  Back when I started operating BARTG, the late John TG9VT was the one to beat.  John won back-to-back BARTG events in 1988 and 1989.  I became a fan of John and followed his columns in the RTTY Journal hoping to someday be a big time RTTY contester and DX'er.  John was my RTTY idol back then and I have a lot to thank him for.  I did thank him personally in Dayton before he passed away and I'm thankful for that opportunity.  When I think of BARTG, I think of John.  He was the man!
I never thought it possible to win BARTG.  But in 2001, BARTG added an "Expert" category and in 2002 I won first place World Expert Class with 1189 QSO's and 289 multipliers for a score of just over 2 million points.  It was a complete surprise to me and a nice addition to my RTTY contest resume, but it was not the "best" BARTG had operated.
The best time I ever had in BARTG was in the year 2000, operating from the W5KFT ranch in a Multi-Multi effort with my good friend Ron K5DJ using AA5AU as the callsign.  We set a new Multi-Multi record of over 4 million points that will be difficult for anyone to beat.  It nearly doubled the previous record and no one has come even remotely close since.  What started out as mere fun, turn into a gut wrenching all-out effort that drained both of us to point where we were nearly bonkers at the end.  The one thing that I will never forget about that contest was 10 meters in the morning.  With all three stacked antennas at EU, I heard a JA calling.  This totally dumbfounded me.  I called over to Ron "Hey, I think JA's are calling me!".  He said "Yeah, they probably are, turn the top antenna long path to Japan."  So I did.  And there I was, both mornings, working EU short path on the lower two yagis and JA long path on the upper antenna at the same time.  I have never worked Japan long path on 10 meter since.  I guess you can do that with a 5 element mono-bander at 150 feet!  It's one of those things you just never forget.  Click here for more on that infamous 2000 BARTG effort.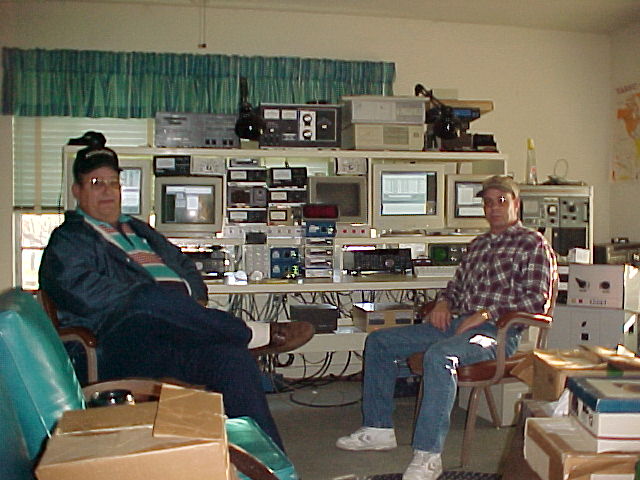 Ron K5DJ and myself just before the start of our record breaking 2000 BARTG Spring HF RTTY contest effort.
I am glad BARTG added the Single Operator Expert class.  The reason they added the Expert class was to try to even the playing field for those competing against SO2R stations such as mine.  I don't agree that it does even the playing field, but I do agree that it makes the contest more interesting and gives others a chance to win.
So as I prepared for this year's contest, I could only imagine having fun.  I just wasn't "up" for an all-out effort.  In this part of the sunspot cycle I know my chances to win were pretty slim so my thoughts turned to operating a part-time "fun only" event.  Looking over the BARTG Records, I saw that it would be possible to break the 20 meter single band record but that just didn't interest me.  I like all-band efforts because of my SO2R station capabilities and because I enjoying operating all the bands with their different kinds of challenges.
I had to work a full day at the office Friday, so I was glad this contest starts at 0200Z which is 8 p.m. local time Friday night.  I was able to take Shay out to dinner and we ran a few errands afterwards.  It was getting nearer to contest time and I realized I wouldn't make the start right at 0200Z, so I was glad I had set up the station the night before.  After returning one of the loaner PRO III transceivers back to Icom at the end of February, I had to reconnect one of my Kenwood TS-870's in the B radio position on Thursday, so everything was checked out and ready to go Thursday night.
We finally arrived home at around 0205Z.  I started on 40 meters and found signals everywhere in the lower section.  I was able to find a clear spot up around 7045 KHz and started calling CQ.  I was immediately answered by WT8C at 0220Z and afterward had a pretty good run for about 30 minutes on 40 meters.  I checked 80 meters and there wasn't much going on there.  When my rate slowed down on 7045 KHz, I went S&P on 40 and started calling CQ on 3588 KHz on the other radio and got a small run going.  In the first hour, despite getting a 20 minute late start, I was able to work 50 stations.  But it seemed slow and I was tired from being up all day.
My plan was to work 40 and 80 until the sun was up over all of Europe, then check 20 meters to see it was open.  Other than a quick QSY to 20 to work 8P2K and check other spots, I stayed on 40 and 80 until I checked 20 meters at around 0640Z to find a few signals from EU!  When I found the path open to EU on 20 meters I got a shot of adrenaline.  I hadn't had this path open in many contests and was surprised to see the band open.  But my excitement was short-lived because although the path was open and signals were generally good, the stations in EU were not hearing me well and some didn't hear me at all even though I was pumping a KW into a 3 element yagi up 20 meters.  After 45 minutes, signals from EU faded and at 0733Z I pulled the plug for the night, disappointed at my 208 QSO total.
I was tired Saturday morning so I decided to skip 15/20/40 meter sunrise openings and slept in until 1330Z for a 6 hour rest period and restarted the contest around 1345Z.  When I found no signals from EU on 15 meters, I was really bummed out.  Luckily 20 meters was open to EU and NA, so I was generally on just one radio Saturday morning and I switched into the casual mode of operation with little or no action on 15 meters other than a few South American stations.  Finally at around 1845Z, I decided there just wasn't enough action on the radio to keep me interested so I took another rest period to do other things.  After a week of rainy weather in Louisiana, it was a beautiful sunny day and I just couldn't see wasting it sitting in the shack.
I took a 3.5 hour rest period and when I came back on around 2230Z, I found good signals on 15 meters from the USA west coast and Japan!  This was weird.  There had been no signals from EU, but I ended up working 9 out of 10 JA call areas that afternoon and evening on 15 meters.  Not only that, I worked JA6PZR on 20 meters as well which is a rare path at this time of day for me.  Most of everything on 20 meters was North America except OH9GIT at 2317Z.  A few minutes before that I was surprised when VK4FNQ called in on 15 meters followed by UA0LMO and LOTS of Japanese stations.  I don't recall working this many JA's in BARTG, but their signals were good and it was fun.  15 meters was good into Asia as DS2OQF and YC3MM also made into the log.  I was able to work Japan on 15 all the way to sunset, but 15 minutes after sunset signals on the PRO III band scope all but disappeared as the band closed and I moved the A radio to 40 meters at 0108Z.
When I went to 40 meters the band was extremely noisy with strong static crashes.  I opened my web browser and checked the weather to see a low pressure system in the northwest Gulf of Mexico producing widespread thunderstorms south of Texas and headed my way.  This was not good.  I worked 40 and 80 meters for about an hour but the noise was too much to deal with so I took another break at 0145Z.  I came back 3 hours later and worked nine stations before shutting down for the night.  I wanted an early start Sunday to pick up the JA multipliers on 40 meters.  And I was hoping for a 15 meter opening into EU the next morning too.
I started thinking about why 15 meters did not open to EU but did open to JA.  The numbers at 1200Z on Saturday were:
SFI= 96, A=  9, K= 2, R= 37 Min,G1=)No storms
At 2100Z the same day when the band opened the Japan, it was:
SFI= 93, A= 14, K= 1, R= 37 Min,G1=)No storms
The solar flux had been falling steadily for days along with the A and K indices.  I doubted very seriously that the one point drop in the K index was the answer I was looking for.  It just didn't make sense, but I theorized that if the band opened to JA Saturday, it would open to EU on Sunday.  At least I was hoping for that.
I restarted the contest at 1000Z (4 a.m. local time with SFI= 93, A= 14, K= 1).  40 meters was a little better than the previous night but not much.  80 was terrible with static crashes and there were no copiable signals at all on 80.  I was able to work six JA call areas that morning on 40 but it was slow.  20 meters wasn't open so it was mainly one-radio boredom until I started hearing EU signals on 20 at around 1130Z or about 30 minutes before my sunrise.
The 20 meter EU opening was pretty good that morning until a flash of lightning startled me through the shack window right at sunrise.  I always open the blinds to the shack window in the morning so I can tell when it starts to get light outside.  As the ensuing clap of thunder sounded a few seconds later I had to make a decision to shut down or not.  Even though I saw the reflection of the lightning and because the sound of the thunder was several seconds later, I was hoping the storm was off in the distance.  I checked the local radar on the Internet to see that the line of thunderstorms was very thin and moving very fast with the closest cell to my south.  I decided to continue operating since the static crashes were not very strong on 20 meters.  Soon it started raining but I wasn't experiencing any rain static so I continued on.
Another factor determining whether or not I kept going was a packet spot originated out of the USA East Coast for 4X6UO on 15 meters.  I went to 15 meters and found Arie calling CQ 21087 KHz.  I got him on one call at 1229Z.  As I tuned across 15 meters I found several weak EU stations and this was encouraging.  Despite the nearby thunderstorm, there was very little static on 15 meters.  15 minutes later there were EU signals popping up all across 15 meters.  I worked 15 and 20 meters on two radios for next 4 and half hours until I decided to check 10 meters at 1650Z.  The only signal I had seen on 10 meters all weekend thus far had been LU5DTN and he was there again on Sunday with the only signal on the band (and with a low serial number which was surprising).  With not much on 20 meters I hadn't already worked, I decided to call CQ on 10 meters (to try to pick up any multipliers) while I was S&P on 15.  My CQ was answered by ZS6BBK at 1653Z and WA2ETU on backscatter 7 minutes later.  I was hoping for more 10 meter action but it just wasn't to be.  I did work L20H and PU3CAL in the next hour or so on 10 meters.
At 1730Z, EU started fading on 15 meters so I took another rest period and was basically pretty much finished with the contest since there were too many other things to do like watch the NCAA basketball tournament and catch the NASCAR race at Atlanta on TV and help Shay finish remodeling one of the bathrooms.  I did come back at 2200Z for two hours in order to get the million point goal I had set.  When I got to 750 QSO's and just over a million points, I shut down the station for good at 0001Z with 2 hours to go in the contest.  I had a good weekend combining contesting with watching TV and helping with chores around the house and enjoying the nice weather we had on Saturday.
The bands were not as bad as my total shows and as bad as they can be this part of the sunspot cycle.  Knowing there is not a "major" RTTY contest until ANARTS in June, I wanted to put some effort in BARTG.  And besides, BARTG has been around and I wanted to be part of its history.  And I'm glad I did.  I had fun and that's all that really counts.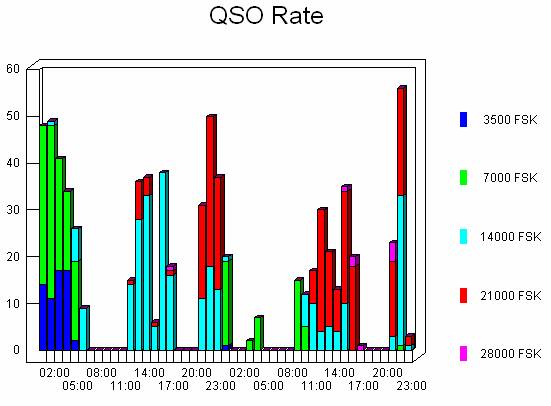 ---
                    BARTG Spring RTTY Contest
Call: AA5AU
Operator(s): AA5AU
Station: AA5AU
Class: SO Expert HP
QTH: LA
Operating Time (hrs):
Radios: SO2R
Summary:
Band  QSOs  Pts  Mults
————————
80:   62   62    19
40:  177  177    55
20:  270  270    73
15:  232  232    72
10:    9    9     8
————————
Total:  750  750   227  Total Score = 1,021,500
Station A:
Icom IC-756PRO III
Icom IC-PW1 solid state linear amplifier (1000 watts output)
Icom PS-60 power supply
Dell 2.66 Ghz Pentium 4
WriteLog beta version 10.53D
MMTTY plug-in
DXP-38
NIR-12 DSP audio filter
Dunestar 600 band filter
Station B:
Kenwood TS-870 transceiver
Ameritron AL-80B linear amplifier (500-600 watts output)
Astron PR-40 power supply
Compaq Deskpro 233 Mhz Pentium II
WriteLog beta version 10.53D
MMTTY plug-in
DXP-38
NIR-12 DSP audio filter
Dunestar 600 band filter
Antennas:
Cushcraft A3S w/40 meter add-on at 62 ft. (Yaesu G-800SDX rotor#1)
Cushcraft A3S at 55 ft. (Yaesu G-800SDX rotor #2)
80M inverted vee
Butternut HF2 vertical (40/80)
Misc:
WX0B SixPak antenna switch
Dunestar 2 radio headphone selector
Heil headphones
Bird wattmeter