AA5AU Contest Notes – 2012 ARRL RTTY Roundup
Pre-Contest
I've had this obsession about breaking the 2000 contact barrier in an ARRL RTTY Roundup for some time now.  Not sure when it started, maybe in 2006 when I made over 1900 contacts and ended up with 1906 officially.  But it's something I've thought a lot about.  Since we got 10 meters back last year, I figured 2012 just might be the year I would do it.  I felt I needed a "secret weapon" to achieve this goal and had decided several months ago that it would take a third radio to accomplish my goal.  Running RTTY SO3R is something I had experimented with 8 or 9 years ago but had come to the conclusion that efficient SO2R is better than inefficient SO3R.  But I wanted to try SO3R again and had been working on getting it set up for several months leading up to the contest.  Unfortunately I had failed in my SO3R attempt for CQWW RTTY last year when my spare TS-870 went south a couple of hours before the contest.  Wouldn't you know that it came back to life after that contest and hadn't failed since?  So I left it in position and used it periodically.  Because it worked for three months without fail, I felt it was stable enough to use as my third radio in Roundup.  I continued working on the station until I had a comfortable SO3R setup.  To read more on how I configured the station for SO3R, click here.
My main concern was how to use the third radio.  After going back and reading my 2006 Roundup Contest Notes, I saw that I had my highest rates ever for the start of that contest.  I had 126 the first hour and 120 the second hour and I did this on two radios.  My thoughts were to leave the third radio alone until things slowed down.  Things usually don't slow down until the second day.  I would play it by ear but my initial thoughts were to not use the third radio for at least the first few hours until I had settled in.  I had tested my station for 8 days prior to the start of the contest and was confident it was ready to go.  So when I got up Saturday morning, I was feeling pretty good but was a little nervous.  Everything was ready.  I went back and re-read the 2006 notes again and something struck me.  The contest started on January 7th in 2006 and that is the year I had my best ever score.  And it started on January 7th this year too.  And then I remembered something else.  January 7, 2012 was my 40th anniversary of being an amateur radio operator.  That is the day of issue on the Novice licensed I received 40 years ago – January 7, 1972.  Hmm… I don't really believe in things like destiny or stuff like that but it was a nice coincidence.  As the contest got near I actually relaxed quite a bit as I was able to convince myself that I was going to have a lot of fun regardless of how things went.
Contest Start – SO3R Insanity
I decided beforehand that I would start the contest on 10 and 15 meters for no particular reason other than to see how it went.  I would put the 3rd radio on 20 meters.  So when the contest started at 1800Z, I started alternating CQ's between 10 and 15 meters on 28081 and 21079 kHz respectively with both the SteppIR (on 10) and the KT-34 (on 15) pointing due north.  Five of the first six contacts came in from 10 meters so I felt good about starting there.  Then nothing was coming in from ten and the next five contacts came in on 15.  What happened to ten?  About this time I was hearing low tone RTTY signals in my left ear from the 3rd radio that was on 20.  I decided to turn the VFO and heard LOTS of RTTY signals.  20 sounded like it was going strong.  Since I wasn't getting answers on ten, I started an S&P run on 20 on the 3rd radio starting on the low end while I was alternating CQ's on the other two radios.  This actually was working well but it was a little crazy.  I ended up working 26 stations on the 3rd radio on 20 meters and had a total of 117 contacts the first hour with 46 multipliers including WY (W6KGP), DC (N8HM, 4U1WB also worked in first hour), and DE (N3ME).  My good friend Mike, W5ZPA, found me on 10 meters for LA!  A week before the contest I had put a message out on the Delta DX reflector asking everyone to work me in the contest.  The club members came out in force for me during the weekend and I worked two of them – W5ZPA and Don, W5FKX, on all five bands (thanks guys).  Running SO3R wasn't bad but I was working my butt off operating three radios.  Toward the end of the first hour, I tried running on all three radios.  This was actually a blast, but it was also insane!  Ten meters wasn't yielding much at all, so I went S&P on ten while running 15 and 20.  It was obvious 20 meters was much better than 10.  I kept this up until 1936Z when I told myself that the third radio was killing me both physically, and in rate.  Working three radios is completely nuts at the start of a contest that has higher rates, for me anyway, than any other contest.  At 1936Z, I reached over and shut the power supply off to the 3rd radio and took a deep breath (in hindsight I should have just turned the audio down or maybe not?)  I only worked 86 stations the second hour and it was mainly because of the 3rd radio.  After turning off the 3rd radio, I was able to concentrate better with more efficient SO2R.
I then put the Icom on 20 meters with the SteppIR, left the good Kenwood on 15 with the KT-34 and relaxed with a little bit with dueling CQ's while running both bands at the same time.  Running on two radios is the easiest way to operate SO2R RTTY.  It's the only time you get to relax.  Running on one radio and S&P on the other is harder because you have to tune the VFO, tune in the signal, and actually use your brain to decide when to call based on what your other radio is doing.  Running two radios is nearly effortless, for me anyway, as your actions are dictated by what appears on the screen and you don't have to tune the radio!  As I settled into a nice rhythm on my 2 normal radios, I got to reflect on what had just happened with SO3R.  I should have started with the two main radios on 15 and 20 instead of 10 and 15 and left the third radio alone.   I let my curiosity get the better of me and it was a mistake although luckily it wasn't fatal.  I didn't beat myself up over it but it was kind of dumb.  I didn't get to relax long because calls on 15 slowed way down after only 20 minutes when I decided to S&P on 15 while running on 20 when the rate meter started falling a little bit.
I don't run a rate meter in every contest, but I always run it in Roundup.  The first time I ran a rate meter it kind of freaked me out because it was dictating me instead of me dictating it.  Once I figured it out, it became a great tool.  You have to look at it as a friend, and not as an adversary you are trying to beat all the time.  Gauge what you are doing by the rate meter.  When it starts to fall, its OK.  Don't over-react; just watch and see if you can stabilize it by what you are currently doing. If not, then you have to make a change.  This is absolutely more important when running low power with low antennas as compared to high power with high antennas.  Guys like Mike, K4GMH, run both radios 95% of the time.  You CANNOT do that low power.  You can, but you won't do very well.  Effective S&P can yield as many contacts as running if you are good at it and if conditions are not good enough to run on two bands when running low power.  In this contest, including dupes, I ended up with 1518 QSO's (68.6%)while running and 694 S&P (31.4%). As you can see, S&P is an important part of SO2R low power strategy.  So when the rate meter started to fall and the reason was because I wasn't getting any calls on 15, I needed to change something.  I decided to go S&P on 15 starting at the low end of the band and working up.  In the meantime, I was running on 14078 kHz and that was working pretty well.  Here's another thing that I've learned.  When you run on two radios, there is at least a 4-6 second gap between CQ's on one radio because of the CQ message going out on the other radio even when using the bare minimum CQ message like RU AA5AU AA5AU CQ.  To me, that's too long.  It's too easy for someone to pass over your run frequency as they tune the band.  When you are running on only one radio, you can cut that time in half and shorten it to 2-3 seconds.  I decided I would only allow only 2 seconds before I started my next CQ when running on one radio and S&P on the other.  This was something new to me for this contest.  If a station was too slow to call me and I double with them, so be it.  But I wanted to try this and it worked well.  It was aggressive contesting and I liked it.
Something else I did in this contest for the first time was use the bare minimum in my S&P exchange message.  It would be "599 LA LA" with a carriage return at the start and a space at the end, and that was it.  If I thought the run station did not have my call correct, I would append it to the end of the message.  This worked way far better than expected.  Maybe callsign recognition had something to do with it.  When I finished my S&P run on 15, I wanted to check 10 meters to see how the band was.  It was around 2000Z.  After two hours I only had 204 contacts and was well behind my 2006 start.  I needed to kick it into another gear. I started contesting like it was the last hour of the contest.  So with those thoughts and my usual "go get that next contact" mentality when S&P, I aggressively attacked the contest from this point forward.
2000-2100Z
Sometime during the 3rd hour, I turned on the third radio to tune 10 meters and when I came across a signal, all I heard was noise.  The radio had failed and I knew it in a heartbeat.  I shut it off and turned it back on but it would not work.  I shut it back down and was a little upset about it but I wasn't going to let it ruin my contest.  I guess it was a good thing.  The 3rd radio had slowed me down and apparently the man upstairs was actually helping me out a little?  OK, I don't really believe that but what heck, it makes for a good storyline.  There's got to be a reason this radio only fails just before or right after the start of a contest (it failed on me just before CQWW RTTY, then worked for 3 months after that).  My rates for the 3rd, 4th, and 5th hours were 103, 106, and 104.  It's what I needed.  At 2100Z ZS2EZ called me on 20 meters for multiplier #61.
2100-0100Z
I went ahead and put the Icom back on 10 and worked seven stations in 3 minutes on a short run on that band.  The other radio was on 15 at 21118 kHz and when the run slowed on 10, it picked up on 15.  I could see on the bandscope of the Icom that ten was starting to thin out so I immediately went back to 20 meters.  I found 14094 kHz open and ran that frequency right at an hour and a half.  I ran 15 at the same time but also did some S&P there.  At 2300Z, I put the Kenwood and KT-34 on 20 meters and put the Icom on 40 and started running on 7079 kHz and 14092 kHz at the same time.  The run on 20 was a bit slow for my liking so I went S&P on 20.  The run on 40 was great but I had to move down to 7076 kHz and run there.  When running low power, you can get moved off your run frequency many times.  You have to accept this and adapt.  Don't ever try to fight for a frequency.  It's wasteful time spent.  But sometimes you can establish yourself on a frequency with success.  I ran 40 meters for over four hours straight!  During that time, I did mostly S&P on 20 because I was picking up a lot of new stations on each pass.  Occasionally I would stop in a clear spot and call CQ, but it was more productive to S&P on 20 while I was running 40.  My rate from 2300-2400Z was 102 and it was 100 from 0001-0100Z.  I wanted to average 100/hr for the first 12 or 13 hours so I was right on target and pretty happy about it.  At 2215Z, while on 15, I found W0TUP in North Dakota for multiplier #73.  At 2233Z, I found VE8EV (NWT) on 15 for multiplier #75.  TK5MH called me on 20 at 2257Z for multiplier #79.  At 2346Z, I found K4HAL in Alabama on 20 meters for my last state and multiplier #89.  Working all states in less than six hours was great because I didn't have to worry about looking for them later. The move to 40 picked up a lot of new multipliers including IW2HUS, OL8M, S50XX, UW8I, TG9ANF, HK3WGQ, YT2U, DL9KUT, E74KC, SP9BGS, LZ9R, ON6AB, and F1GTU who was multiplier #97.  All these stations had called me while I was running on the high end of 40 meters.  Working the Europeans on 40 was a big bonus because I normally have to find them on 20 Sunday morning.  Forty was in great shape Saturday night (Sunday Zulu time).
0100-0730Z
At around 0120Z, I had moved the Kenwood from 20 to 80 while still running on 40 at 7076 kHz when 9A3ZI called in for multiplier #98 on 40.  Normally I'll do a quick pass on 80 when I first go there but decided to go ahead and start running on 3595 kHz.  I was running 40 and 80 at the same time until I decided to do an S&P pass on 40 at around 0330Z when I found J39BS for multiplier #99.  I eventually settled onto 7074 kHz where I started running again while S&P on 80.  I had to move my run frequency on 40 to 7068 kHz, then OE9GHV called in for multiplier #100.  I had to move again to 7074 kHz and YQ6A called for multiplier #101.  Those runs on 40 lasted about an hour and 20 minutes and at 0624Z, I did a quick S&P of 40 where I found FG1PP for multiplier #102, then started running on 7072 kHz.  I was also running on 3598 kHz when G3LZQ called in with a big signal and multiplier #103.  It always freaks me out when Europe calls me on 80 and I'm barefoot.  That's not really suppose to happen is it?  The rate meter was staying steady at 100/hr.  My rates for 0100-0600Z were 101, 117, 112, 91, and 99.  I was right on schedule and loving every minute of it.
As it got later and later, I started thinking about my off-time and kept a close eye on the rate meter.  The rate meter stayed right at 100/hr for several hours while on the low bands so I kept going.  The latest I ever operated in previous years was 0630Z and in most years I would stop at 0600Z before going to bed.  But with the rate meter staying high, I kept going.  My goal was 2000 contacts and experience told me the rate would not be this high on Sunday.  I had these tremendous runs going on 40 and I was picking up new stations on each S&P pass of 80.  Then all of sudden at around 0710Z, after working 86 stations in the previous hour, both bands stopped producing and I stopped at 0714Z.  I saved the logs, then put the Kenwood on 15 and the Icom on 20 in preparation of starting in the morning.  When I went to 20, I saw several signals on the bandmap.  It was 1:15 AM local time and I tuned across the band to find several strong European signals.  In the next ten minutes, I worked nine DX stations including ZC4LI for multiplier #104.  I love all night openings to Europe, but the rate wasn't there for me to stay and I was a little tired so went QRT at 0729Z.  I had 1360 contacts with my 104 multipliers.  I had just averaged 100 QSO/hr for the first 13.5 hours.  This was an all-time best for me.
Now I had to think a little bit and I hate when that happens.  If I took all six hours of rest at the same time, I would restart at 1330Z which is 7:30 AM local time (30 minutes after local sunrise).  From checking the bands the past few days, I knew 20 opened an hour earlier at 1230Z and 15 meters would probably open at sunrise at 1300Z.  And since the bands usually open a little earlier when there's a major contest going on, I didn't want to miss any good rare DX multipliers on 15 or 20 at sunrise.  So I decided to restart at 1300Z or 7 AM local time which is right at sunrise.  This meant I needed to take an additional 30 minutes of off-time later on Sunday.  I went to bed and slept well.
1300-1600Z, a Great Start on Sunday Morning
I didn't need an alarm clock because I normally wake up at 1230Z every day anyway.  In the morning I made coffee and fed the cats.  By the time I got to the shack it was time to go.  Running low power, I normally can't get runs going early in the morning because propagation favors the East Coast into Europe.  Fifteen was open to EU so I immediately started S&P there.  Twenty was open to the Europe plus USA and Canada, so I went S&P quickly to find a hole.  So in essence, I was S&P on both radios to start.  I found new multipliers TF3AO, MM0AMW, EI7M, and SV1JG on 15.  On 20, I found new multipliers R9CB, UN1L, VE9DX, OZ5NJ and PD7BZ for multiplier #113.  I ended up way up on 14121 kHz when I started running on 20 meters and immediately started getting calls because the band was good stateside, Canada and Europe.  Everything on 15 was Europe and that was good for picking up multipliers including LA3WAA for multiplier #114.  GI4JTF called in on 20 for multiplier #115 at 1346Z.  At 1358Z I found A45XR on 15M.  The first hour back I worked 68 stations and this was good, especially since it included a lot of new multipliers.
Fifty minutes later I went five minutes without anyone calling me on my 20 meter run frequency and my rate for that second hour mirrored the first hour at 68, so I moved from 20 to 10 on the Icom and found European signals. The plan all along was to go to ten as early as possible and to pound 10 and 15 meters as long as the rate meter would allow it.  The bandscope on 10 showed there wasn't a lot of activity but the band was just opening.  I found 28085 kHz open so I started calling CQ.  On 15, I ended up on 21124 kHz, so called CQ there and began running both radios at around 1400Z.  Anytime you land on .085 on 10, 15 or 20 meters and it's open, you take it!  That's prime real estate and if you can get a run going there, you can do well.  However, often when running low power, you can't hold that frequency.  Such was case Sunday and I ended up moving way up to 28106 kHz.  It doesn't make sense to stay on a frequency that's getting creamed.  Since it was still early for me, I couldn't get any big runs going so I alternated running on one band and S&P on the other band and then vice versa.  It was working well and the rate meter was climbing.  I worked 92 stations between 1500-1600Z.  I had also picked up new multipliers ES5TF, OM7LM, HB9NMQ and my good friend Phil, GU0SUP, called in on 15 meters for multiplier #122 at 1554Z.
1600-2000Z – Breaking the World Record
After about an hour, I could tell ten meters just wasn't going to be great into Europe and the band was not open stateside yet.  There would be no big runs into Europe on ten this year.  I needed to fill the log, so I jumped from 10 to 20.  I ran 21135 kHz while making at least two full S&P passes on 20 meters.  This is something different too this year.  Normally I rarely make a second S&P pass on a band, but I did this year because activity seemed way up and a second pass proved quite fruitful with more new stations to work.  At 1600Z, I had 1589 contacts.  Hmmm. Let's do the math.  That's just over 96/hr for 16.5 hours.  I had 7.5 hours of operating remaining and I needed at least 420 more contacts.  That's about 56 per hour for the rest of the contest to make my 2000 QSO goal.  I needed to take one more 30 minute rest period.  Things normally get slow for me somewhere between 1800-2000Z, so I needed to keep an eye on the rate meter when I got close to 1800Z.  I told myself I would take my break when the rate dropped below 70 QSO's per hour.  I stayed on 15 and 20 meters from 1518Z to 1630Z.  The entire time I was running 21135 kHz and S&P on 20.  The run on 15 was so good on 21135Z that it lasted from 1512Z to 1712Z – 2 full hours.  It was incredible.  The rate between 1600-1700Z dropped only slightly to 89.  That hour included being called by GW4SKA for multiplier #123.
It was an incredible run but now I was getting into that time of day when things normally slow down.  When I had left 20 back at 1630Z, I went to 10 to find the band had finally opened stateside and got a good running going on 28090 kHz, then 28102 kHz, so I was able to run both 10 and 15 for a good while.  At 1720Z, I abandoned my run on 15 to S&P and try to see if there were any multipliers I was missing while I continued to run 10 meters stateside.  The rate was still averaging over a hundred an hour in spurts.  After one pass of S&P on 15, I settled on 21106 kHz for another run and went S&P on 10.  I was expecting the rate meter to fall, but the calls kept coming on 15 and I kept finding even more stations on ten meters.
The run on 15 went for two full hours (you have to remember these tremendous runs on 15 meters were coming from a KT34 at only 40 feet). The period that is normally slow for me on the second day was not slow at all.  But I kept watching the rate meter expecting it to fall and it only gradually came down to 82 between 1700-1800 and included finding VY2LI (PEI) for multiplier #124.  The rate from 1800-1900Z was 80/hr and included finding KP2D on 10 meters for multiplier #125 and being called by ZL3TE on 15 for multiplier #126.  But more importantly, somewhere around 1900Z, I broke the world record for single operator low power.  I didn't notice it at first; I was busy making contacts and watching the rate meter.  When I saw it, I smiled.  But my work wasn't done just yet – I was looking for 2000 contacts and was very close at 1842 QSO's.  I was looking for the rate to drop below 70 in order to take my last required rest period.  I was kind of looking forward to the rest period as I had been working pretty hard and was a little tired but didn't feel too bad.  Breaking the world record gave me some additional adrenalin.  The rate between 1900-2000Z was 72 and I was barely hanging above my self-imposed 70/hr limit.  D2QMN called me on 15 off the side of the antenna at 1908Z for multiplier #127.
2000-2200Z – Breaking the 2000 QSO Mark
During all this time I was alternating running on 10 and S&P on 15 and vice versa.  It was working well and I would get these spurts where my rate would jump way over 100 for short periods of time.  Since experience told me I can go to 20 meters at 2130Z and run the rest of the contest with big rates, I was beginning to think I wouldn't get the opportunity for that 30-minute break.  It was apparent the rate was not going to fall below 70, so I decided I would just continue on until 2329Z and end the contest there.  Actually the rate did fall to 69 between 2000-2100Z and this is normally my slowest rate-hour in previous Roundups so it wasn't unexpected.  I kept going because I knew the rate would start to rise rapidly after 2100Z. Looking back, I suppose I should have rested between 2030-2100Z, but I was on a mission from God (like the Blues Brothers) and wasn't about to interrupt the momentum.
Ten meter started slowing down at around 2045Z as I watched signals thinning out across the bandscope.  Without hesitation, I moved from 10 to 20 at 2100Z on the PRO III and SteppIR.  The bandscope on 20 was incredible.  It was completely full of RTTY signals.  I started a run on 21123 kHz while I went S&P on 20 looking for a hole to CQ in.  I was finding all sorts of new stations to work S&P on 20, but I really wanted to run 20.  I found a very tight hole at 14106 kHz at 2120Z and called CQ with N6DZR coming back on the first CQ.  Next a fluttery signal was heard and E21YDP came across the screen.  I was beaming due north on the SteppIR and was being called by Thailand for what would prove to be my last multiplier (#128) and a thousand RTTY signals surrounding me.  Man, it was friggin' great!  The run on 14106 kHz only lasted 15 minutes though.  It was just too tight and too many nearby signals clobbering my AGC.  I was lucky to get E21YDP in the log but I needed to move.  So I started S&P up the band and worked station after station all the way up to 14140 kHz.  I didn't want to run that high in the band, so I went back down to 14078 kHz where I found a hole and started running there.  At that time I started S&P on 15 after I had just ran 21123 kHz for exactly an hour and a half.  During this incredible stretch, I passed the 2000 QSO mark at 2110Z.  I had met my goal.  Nothing else really mattered but I contested like it was the last RTTY contest I would ever operate.  Since I had made my goal, I would try to get the QSO total as high as I could and it wasn't difficult to do as the rate jumped dramatically to 90 per hour from 2100-2200Z with the move to 20 meters
2200-2330Z Mop-Up Operations
Sometime around 2200Z, 15 meters started slowing down.  I thought about going to 40 but the rate was still decent.  I decided to put the Kenwood on 20 with the KT34 and put the Icom and SteppIR on 15 S&P in preparation of going to 40.  I got a good run going on 14078 six minutes later.  I did one final pass S&P on 15 without finding any new multipliers and promptly went to 40 meters at 2235Z.  I would have just under an hour to pick up anything new on 40 and in the meantime, found 14085 kHz open while on a short S&P run on 20.  So I ran 14085 kHz (remember what I said about .085?) for the last 45 minutes while S&P on 40 and picking up a lot of new stations.  The rate between 2200-2300Z was 85, then jumped up in the final 30 minutes.  At 2329Z, I worked LS1D and KA9MOM on my 20 meter run frequency and had a station all lined up to work on 40, when I saw I had an even 2200 valid contacts (2212 with dupes).  I decided not to make that last call on 40.  I shut it down 20 seconds early.  How unlike me!  In the last 30 minutes I had worked 53 stations.  I guess I should have taken that last 30 minute break between 2030-2100Z.  But it's OK, I know that for next year!  That's why I write these things…
Post-Contest
Since Sharon didn't expect me to come out of the shack until 2400Z, I had some time to reflect on the contest.  I had just had my best Roundup ever but it was far from perfect.  I had made some mistakes which meant there was room for improvement next year.  I had 2200 valid contacts with 128 multipliers for a claimed score of 281,600 points which was higher than my previous best of 230,868 points in 2006.  That's more than 50k points which translates to a 22% increase in score.  I didn't need a secret weapon.  I didn't need a third radio.  What was I thinking?
Thank you to everyone who participated in this contest.  I feel privileged to have participated in all 24 RTTY Roundups.  To do what I do with low power and low antennas actually does amaze even me.  I can't explain it.  I don't know why I have been blessed with is talent.  But it is my duty to make sure that I pass on everything I know to others so they can feel at least a small part of the tremendous fun that I experience in these contests.  I vow to be an ambassador for RTTY contesting for as long as I live and to promote goodwill in our wonderful sport of RTTY contesting.  I want to give special thanks to my wonderful wife, Sharon, for all the support she gives me during these contests.  Man does not live on QSO's alone!
I normally don't do much analysis after contests other than browse through the log looking for obvious mistakes (I found only 2 or 3).  I did a detail analysis of the log this year.  Thanks to Dan, W4UH, for turning me on to the SH5 log analyzer.  I don't think SH5 will benefit me as far as an analysis to help me in the future, but it sure outputs excellent data in web form.  CHECK IT OUT HERE.
CBS Log Analyzer results here.
You can rest assured that I am not totally satisfied with these results. I have already identified where I can improve my operation for next year.  And maybe I'll be a little more proficient with a third radio.  Or maybe not!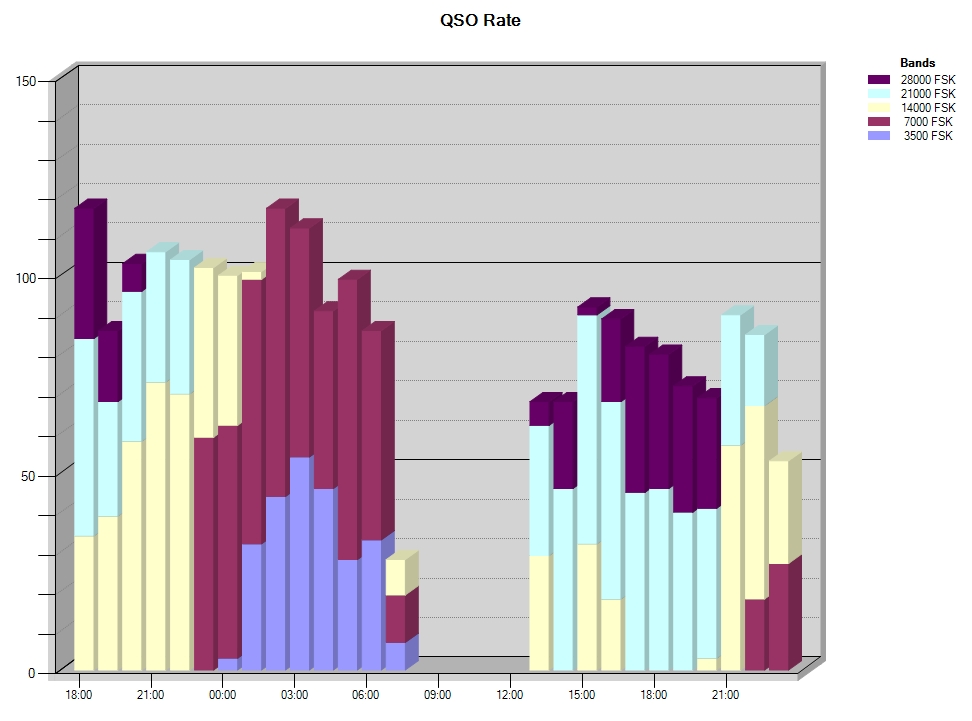 AA5AU 3830 report:
Call: AA5AU
Operator(s): AA5AU
Station: AA5AU

Class: Single Op LP
QTH: LA
Operating Time (hrs): 24

Summary:
 Band  QSOs
------------
   80:  247
   40:  542
   20:  580
   15:  591
   10:  240
------------
Total: 2200  State/Prov = 59  Countries = 69  Total Score = 281,600

Club: Louisiana Contest Club
Radios:
Icom IC-756 PRO III
Kenwood TS-870 (2)

Antennas:
3 element SteppIR with 40M loop dipole @ 60'
4 element KT-34 tribander @ 40'
80M inverted vee with apex at 55'.

Other stuff:
Dell Dimension desktop PC running XP with WriteLog V11.01F
Dell Inspiron laptop running XP with WriteLog 11.01F
M2 RC2800 rotor controller
Ham IV rotor controller 
Dunestar HF triplexer
Dunestar 600 band filter (2)
Dunestar individual band filters between triplexer and antenna switch
Array Solutions SixPak 2-radio antenna switch
JPS NIR-12 Dual DSP audio filters (2)
Dunestar 842 2-radio headphone selector
Icom PS-60 power supply
Yaesu FP-757HD power supply
Astron power supply