WriteLog RTTY Starter Page 02
Checking for the latest WriteLog Version
If you already use WriteLog, you may skip this page and move on to Page 3.  If you are new to WriteLog, the first thing you should do is check to make sure you have the most up-to-date version of WriteLog installed on your PC.  Open WriteLog.  If you are opening WriteLog for the very first time, the opening screen looks something like this.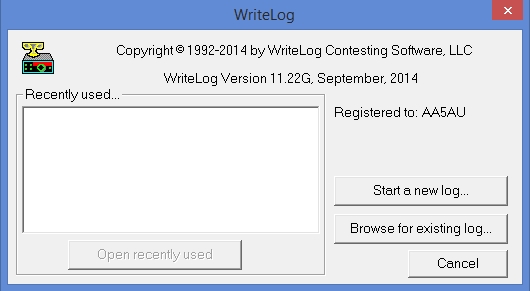 This is an important screen. Before going further, it's always a good idea to check which version of WriteLog you are using.  WriteLog is being updated constantly with improvements and fixes.  You should keep up with these updates and update the program on a regular basis.  The version shown above was 11.22G.  To check to see if you have the most current version available, go to the WriteLog website. Under the Downloads menu, there is an option for WriteLog Versions.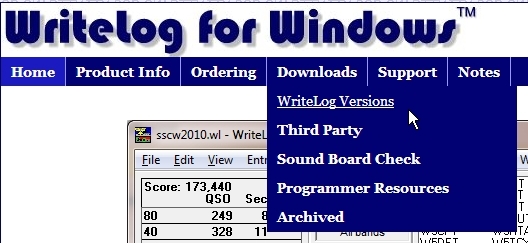 On the WriteLog Versions page, you can see which version is available.

As you can see, I did have the latest upgrade on my PC.  If you don't have the latest version, it's recommended you download the new version and install it.
Once you know you have the latest version of WriteLog installed, start WriteLog and select "Start a new log…".
Selecting the Contest
When you click on "Start a new log…" from the opening screen, WriteLog opens and a dialog box with a list of contest modules available will be shown.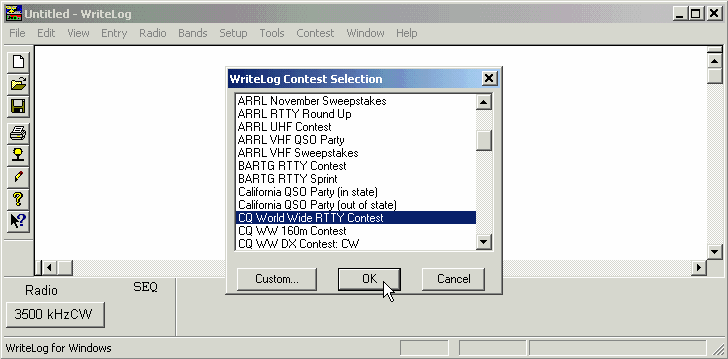 We will use the "CQ World Wide RTTY Contest" as our example. Scroll down to "CQ World Wide RTTY Contest" and either double click on the contest name or highlight it and click "OK".