WriteLog RTTY Starter Page 07
Once the COM port is set (if applicable), go ahead and select your TU type. In our example, we will choose MMTTY as our TU type.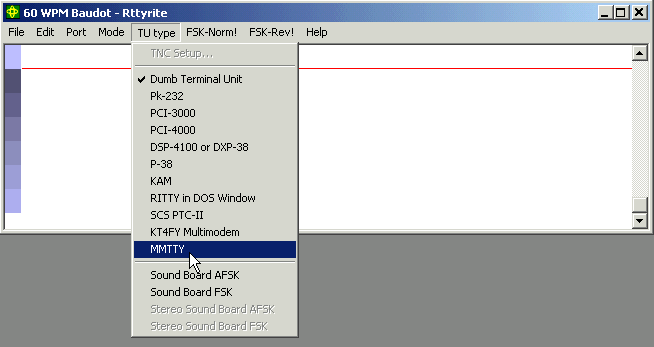 When MMTTY is selected, the MMTTY RTTY control panel should appear. If this is the first time MMTTY is run, a dialog window may appear where you will need to navigate to the location of the MMTTY engine, Mmtty.exe. Once you choose the location in the dialog box and click OK, the MMTTY RTTY control panel will appear. If for some reason you get a Rttyrite error message, close Rttyrite and reopen it. It should open up to the MMTTY RTTY control panel and it should look something like this.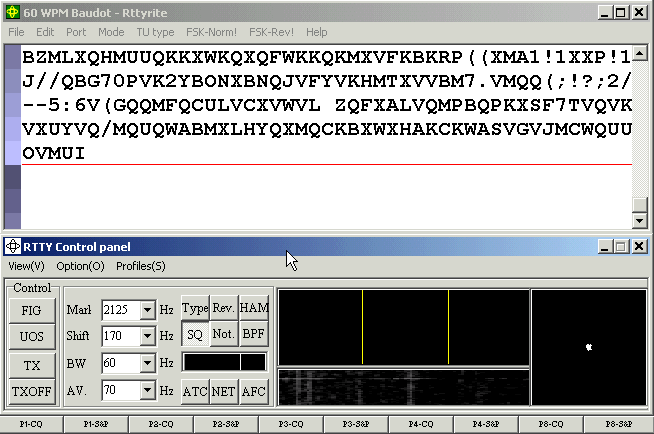 It's possible the RTTY control panel will not look like this. And it's possible the RTTY control panel will open on top of either the Rttyrite window or the main WriteLog window. If this happens, drag the RTTY control panel off either of the other two windows so they do not overlap. You can also re-size this control panel and change several of its characteristics. You will not see the Profile panel at the bottom (showing buttons like F1-CQ, F1-S&P, etc) unless you have the MMTTY plug-in for WriteLog installed. The MMTTY plug-in is no longer the best way to use MMTTY with WriteLog. Instead, try to use XMMT.ocx support for MMTTY with WriteLog.
Other than the menu options on the RTTY control panel, configuration changes can be made via the TNC Setup… option under the TU Type menu in the Rttyrite window as shown here.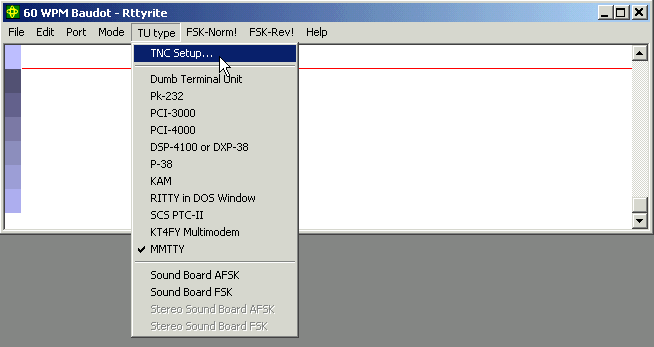 In the Rttyrite MMTTY Settings window, you can change View Settings, Profile Settings and other Options. You can also go to MMTTY Setup via the "MMTty Settings…" button.  (Note:  If you are using a TU type other than MMTTY, TNC Setup will bring to a different screen than shown.)

Pressing the "MMTty Settings…" button will bring you to the regular MMTTY Setup window.  If you are familiar with MMTTY as a stand-alone program, you will recognize this window.  t's nearly exactly the same with only slight differences.  The main difference being the option of selecting the port assignment for FSK and/or PTT is not shown on the TX tab.  Instead, the port assignment is selected via the Ports menu in the Rttyrite window as previous discussed on Page 6.