Before the Contest Starts
Before the contest starts, reset the Cabrillo file. This may not be necessary but if you previously participated in any contest using WSJT-X, then you must reset the Cabrillo file in order to have a clean file for the contest. To reset the Cabrillo file, go the the File menu and select "Reset Cabrillo Log".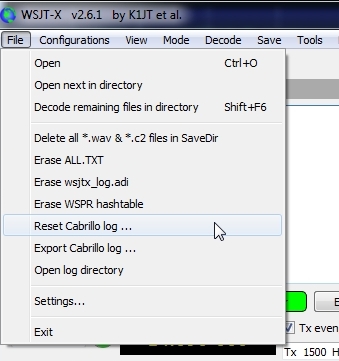 Additionally, in order to get color coding correct for dupes and new stations, you should clear the wsjtx_log.adi file. Before erasing wsjtx_log.adi, please think first about what you are about to do.
The wsjtx_log.adi file is an important file. It's an ADIF file that contains all QSOs made with WSJT-X. This file is read on WSJT-X start up and used to color-code decoded callsigns to show if they are new stations, new stations on a band, new grids, etc. Clearing this file means you are clearing all that important information.
In most cases, the wsjtx_log.adi file can be replaced by exporting all your FT4 and FT8 (or other WSJT-X mode) contacts from your general logging program, naming the file wsjtx_log.adi and copying into the WSJT-X log directory. To browse to the WSJT-X log directory, you can choose "Open log directory" from the File menu.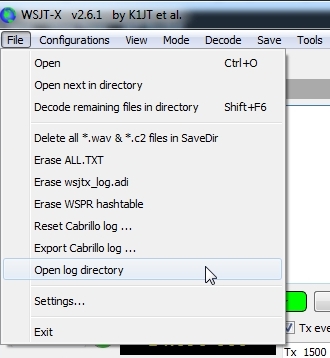 If you want to preserve your wsjtx_log.adi file, simply "Open log directory" from the File menu and rename wsjtx_adi.log to something like wsjtx_log.bak then restart WSJT-X. Or copy is to another folder on your hard drive. After the contest, you can put it back.
To clear wsjtx_log.adi, choose "Erase wsjtx_log.adi" from the File menu. If you do not clear wsjtx_log.adi, new stations in the contest will not highlight if you have worked them previously before the contest and their call is still in wsjtx_log.adi.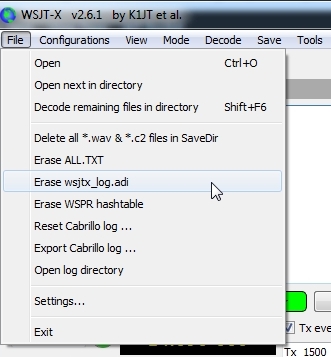 After erasing wsjtx_log.adi, go back into Settings and to the Color tab window. Click on "Rescan ADIF log".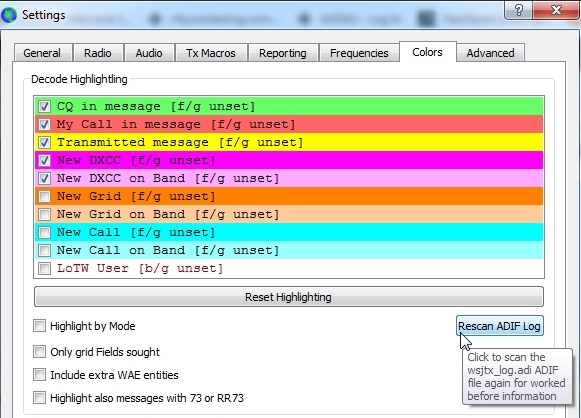 While on the Color tab screen also click "Reset Highlighting".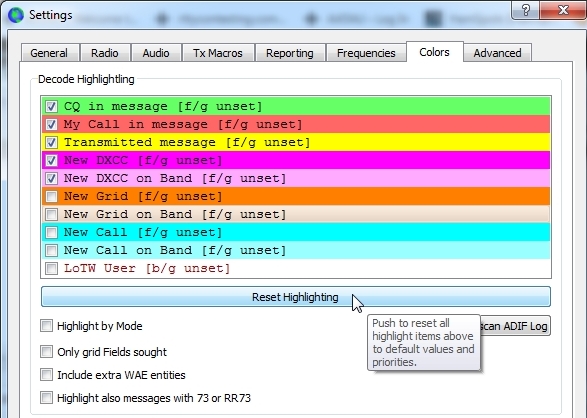 Confirm resetting decode highlighting by clicking Yes.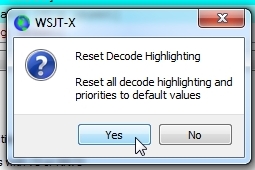 The color screen will reset. Once it resets, enable or disable options so that only the following options are enabled:
My call is message
New DXCC
New DXCC on Band
New Call
New Call on Band
CQ in message
Transmitted message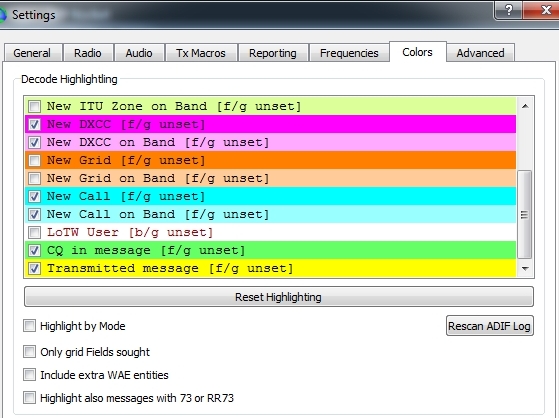 The most important ones that should be un-checked are "New Grid" and "New Grid on Band" since grids are not multipliers. Make sure those are unchecked.
When finished with changes in the Color screen, click OK.